Since it was founded in 1987, the Council of University of California Emeriti Associations (CUCEA) has provided UC emeriti with a state-wide voice that speaks to the university administration and to the public. The Council elects its own officers, including an archivist and a historian, and maintains an informative website. Twice a year campus emeriti associations send representatives to general meetings of CUCEA, held in the spring at a southern campus and in the fall at a northern campus. Hosted by local emeriti association, these biannual meetings are characterized by warm hospitality and congenial discussion. Emeriti from different campuses can share ideas and practices, which might range from an innovative community outreach program to emeriti parking.
An integral part of CUCEA is the Joint Benefits Committee (JBC). The JBC was established shortly after the beginning of CUCRA (the Council of University of California Retiree Associations) to provide a joint effort with CUCEA in identifying preserving and enhancing benefits for annuitants. Officials from relevant programs in the President's Office inform emeriti of current developments, and share views of such concerns as retirement benefits and health care.
A detailed report on the most recent meeting may be found in our fall and winter newsletters.
Read the most recent (October 2014) CUCEA Newsletter.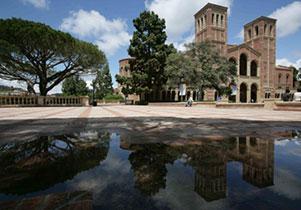 Royce Hall