The Emeriti Association, through its Program & Hospitality Committees, offers eight After Lunch Lecture events throughout the academic year. In each of the quarters, there are two After Lunch Lectures, beginning with refreshments from 1:00pm to 1:30 pm, followed by the lecture from 1:30-2:30 pm.
The lecture speakers are selected on the basis of the Committee's research into topics that are deemed to be of interest to the emeriti across the various disciplines on campus.
In addition, the Emeriti Association co-hosts with the Retirees' Association two additional After Lunch Lecture presentations as joint meetings at the beginning and the end of the academic year. The topics selected are based on shared interests of the emeriti and retirees.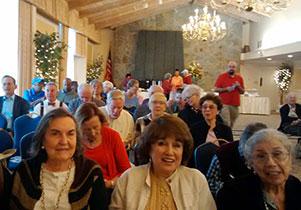 Spring 2014 Lunch Lecture