Through its Program & Hospitality Committees, the Emeriti Association holds a dinner during each of the three academic quarters. Social hour starts at 4:45 pm, with dinner at 6 pm and ending with a presentation at 7:15 pm.
The lecture speakers are selected on the basis of the Committee's research into topics that are deemed to be of interest to the emeriti across the various disciplines on campus.
Click here for details on upcoming Emeriti events.
Click here for recordings of past Emeriti events.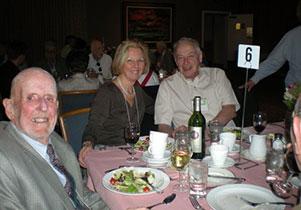 Left to Right: Charles Berst, Roelina Berst, & Paul Sheats