For one day every May, the Sylvia Winstein Emeriti Arts and Crafts Exhibit has transformed the California Room of the Faculty Center into a gallery of earthly delights. UCLA Emeriti and their spouses are invited to show their original productions at the show. Newly retired exhibitors are encouraged to participate. The event is a high point of the Emeriti year and culminates with a celebrated buffet, an epicure's delight.
In 2003 the Emeriti Arts & Crafts Exhibit was renamed the Sylvia Winstein Emeriti Arts & Crafts Exhibit to honor Sylvia's decades long dedication to this event. Her talent and energy as Chair shaped the art show into a beloved institution. Sylvia Winstein's enthusiasm and love for the artists and their work remains in happy memory.
How To Show Your Work at the Art Show
All Emeritus/Emeritas Professors and or spouses are eligible to show their original arts or crafts work at the show.
Please call the Emeriti/Retirees Center at (310) 825-7456 or email us at emeriti@errc.ucla.edu if you have any questions.
Tuesday, May 17, 2022 - Emeriti Arts & Crafts Exhibit
Emeriti art is back this spring! Fifteen Emeriti Association members and their spouses will display various artworks as the culmination of three years of hard work. Under the thorough planning of the EA Arts and Crafts Committee, the Sylvia Winstein UCLA Emeriti Arts and Crafts Exhibit will proudly return in-person for its 44th year. Exhibition categories include acrylic painting, calligraphy, jewelry, oil painting, photography, and watercolor painting.
Shirley Ho, Chair, Arts & Crafts Committee
Exhibit: Tuesday, May 17, 2022, 11:00 am - 4:00 pm
Introductions and Reception: 2:00 pm
Morrison Room (formerly California Room), UCLA Faculty Club
Attendees: Vaccination record or proof of a negative COVID-19 test within 72 hours along with your photo ID; masks are required.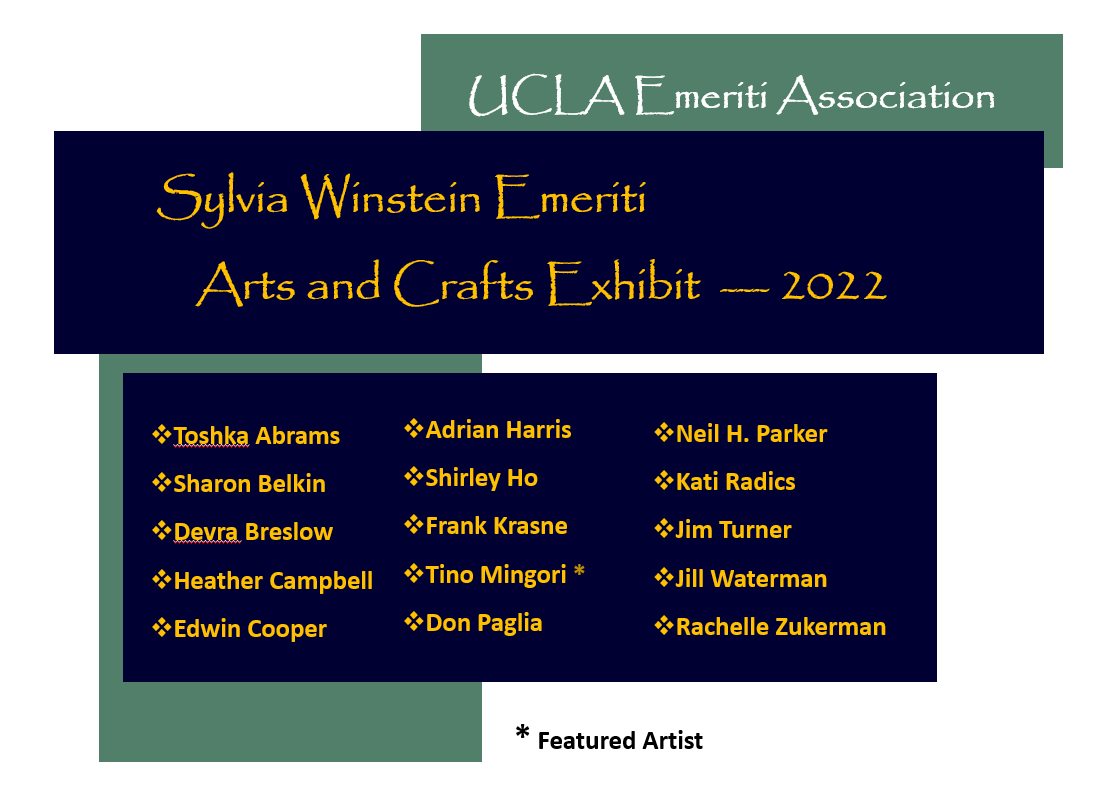 Fifteen Artists, including our Featured Artist Tino Mingori
Artists for 2022, linked below, participated in the 2021 Virtual Arts and Crafts Exhibit

*Featured Artist
Artist's Statement
"My work represents an exploration of visual ideas leading to a record of paths taken. Corrections, accidents and "do overs" are important on this journey. The work involves repeated adjustment while seeking something authentic. The image is an arena that contains the history of a struggle to achieve such an outcome. Many have influenced my progress as an artist. My college roommate, Bob Schwenck, an art major, got me started on this path. After college, I visited European Art Museums with my wife Lynn, and her support was another step on the way. As I progressed, several excellent art teachers were inspirational. Joe Blaustein and Elliot Elgart were especially encouraging. Also I was influenced by the work of famous artists such as Matisse, Gorky, DeKooning, Diebenkorn and Hockney. It has been an exciting journey."

— Tino Mingori
Gallery