Eligibility for membership in the Emeriti Association:
• all retired faculty who are members of the Academic Senate;
• all retired UCLA librarians who are members of the Librarians Association of the University of California (LAUC-LA);
• those with emeritus, a status individually conferred by the University;
• emeriti with equivalent qualifications from other UC campuses or other universities;
• spouses or partners or surviving spouses or partners of those listed above and spouses/partners of Academic Senate members who have died in service.
Joining the Emeriti Association
First-time members are offered a one-year complimentary membership. Dues thereafter are $20 per year for individual members or $30 per year for a member and spouse/partner. At the age of 85 those eligible for membership automatically become honorary members, retaining all benefits but exempt thereafter from payment of dues.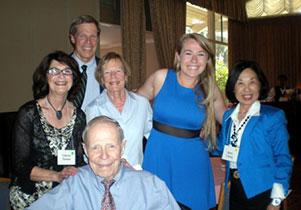 Dickson Recipient Eric Fonkalsrud and Mrs. Fonkalsrud, with family and fellow Emeriti
Membership Form
Click here to join or renew your membership online.
To pay by check, click here to download the form, complete it and return it to the UCLA Emeriti/Retirees Relations Center for which the address is on the bottom of the form.